WHY DO WE NEED YOGA FOR HIGH BLOOD PRESSURE?
High blood pressure is one of the commonest ailments in today's world. Because high BP does not involve pain and is generally controlled by drugs, hypertensive people prefer to pop the pill and forget about their ailment rather than spend one hour on yoga. They don't even realize how these drugs are harming their body.
So, if you are also suffering from high BP, here, I have a yoga plan for you, with which you can not only normalize your blood pressure within a week but can also save your body from the harmful effects of drugs.
Firstly, have a look at what is blood pressure and what are its ideal values for a healthy adult
WHAT IS BLOOD PRESSURE?
Blood pressure is the pressure of the circulating blood against the wall of the blood vessels. The pressure with which the blood leaves the heart is called the Systolic blood pressure and with which it enters the heart is Diastolic blood pressure. The ideal systolic BP of a healthy adult is 120mmHg and for diastolic BP, it is 80mmHg, which is written as 120/80mmHg.
In old people, it depends on their age. Their systolic BP may increase while their diastolic BP generally remains the same. When the blood pressure measures higher than these accepted counts, it is called HIGH BLOOD PRESSURE. A reading of 160/95-105 is considered as mild high blood pressure while 160-180/105-115 is regarded as moderately high. When it is over 180/115, it is severe high blood pressure.
High BP is also called as A SILENT KILLER as it generally show no symptoms. Many times ,its first symptom is a fatal heart attack.
Symptoms of high BP include dizziness, depression, headache, breathlessness, palpitations, sleeplessness, chest pain, loss of appetite, decreased memory and concentration, but these are experienced by only a few individuals.
As we know now, how bad high blood pressure can be for us. So, now have a look at a yoga plan for high blood pressure which will create a positive change in your body and you can feel that change within a week.
DAY WISE YOGA FOR HIGH BLOOD PRESSURE:
DAY 1
SUKSHMA VYAYAMA SERIES:
It is a system of yogic practice which loosens your joints and improves blood circulation. It boosts the energy of the body.
EXERCISE 1:
Sit down and keep your legs stretched out in front , put your hands on the floor behind your body. Now, close your eyes and concerntrate on your breath for 1-2 minutes. Count 5 breaths.
Now open your eyes and inhale.
Keep your feet straight up and bend your toes forward while exhaling.
Now inhale and bend your feet backwards.
Repeat it for 10 times.
EXERCISE 2:
For this, you need to move your legs apart.
Rotate your feet forward while exhaling and rotate them backwards while inhaling.
Repeat it for 10 times.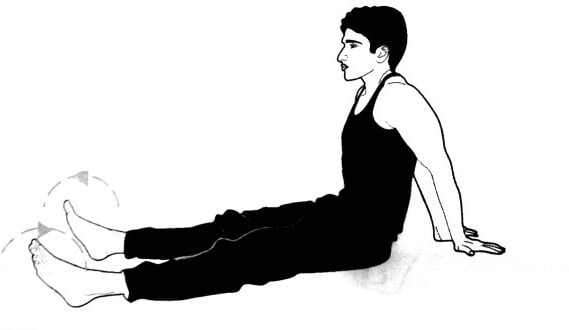 EXERCISE 3:
Place your right foot on the left thugh and place youe right hand on your right knee.
Now by holding your right foot with left hand, rotate it 10 times in clockwise and 10 times in anticlockwise direction.
Repeat it for other side also.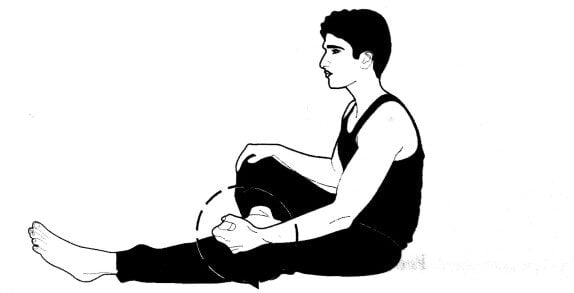 EXERCISE 4:
Now with both your hands, grasp your right thigh .
While inhaling, bend the leg pulling the knee to the chest.
Now exhale and straighten your leg.
Do it 10 times with both the legs.

EXERCISE 5:
For this exercise, you need to place your legs wide apart.
Now take a deep breath.
While exhaling turn your hand to the left and touch the left foot with the right hand.
Same exercise should be done to other side.
Repeat it for 10 times.
Note: Avoid this exercise if you have a back problem.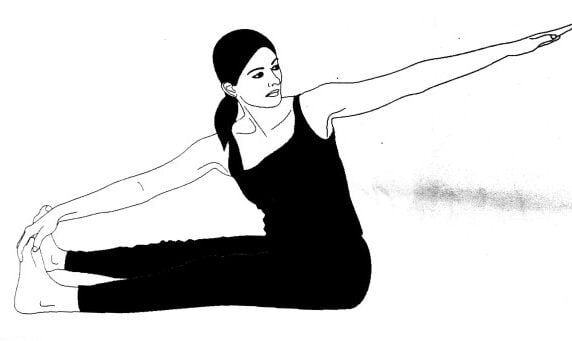 EXERCISE 6:
Keep your right foot on the left thigh and place your hands on the respective knees.
Press your right knee down to the floor while exhaling.
Bring it up while inhaling.
Repeat it for 10 times with both legs.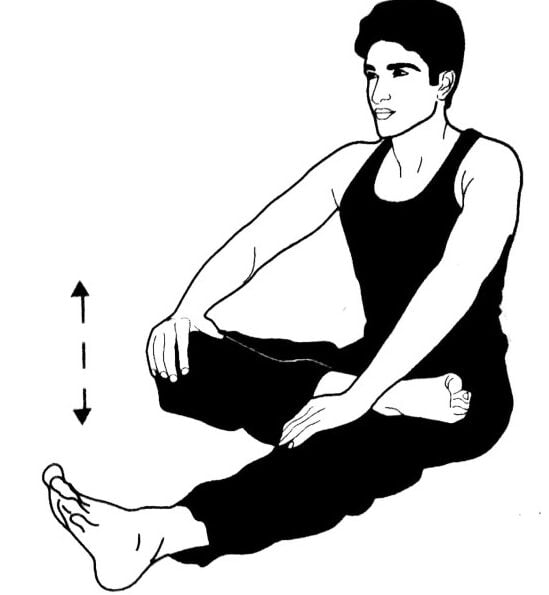 EXERCISE 7:
Position of the body will remail the same as exercise 6.
Instead of pressing the knee up and down, rotate your knee 10 times in clockwise and anti-clockwise direction.
Same should be done with other leg.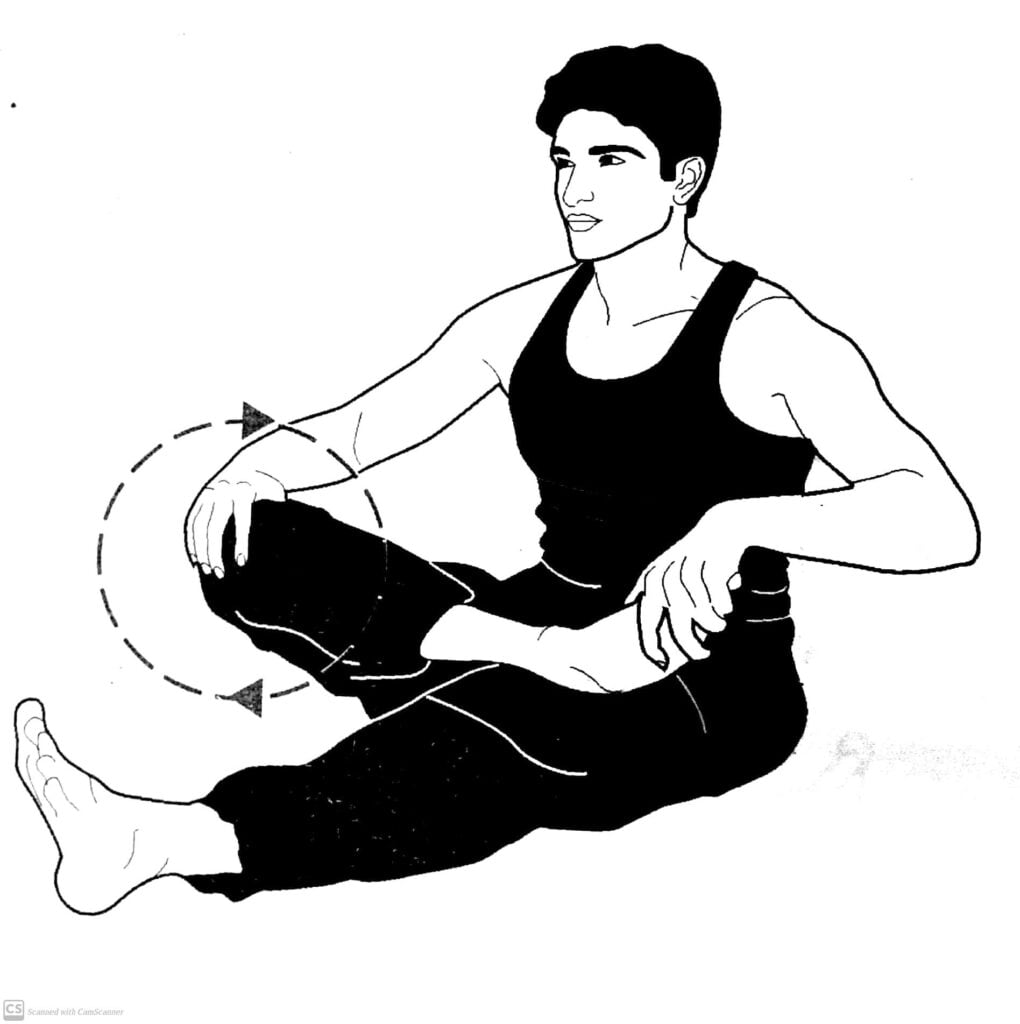 EXERCISE 8:
For this , you need to fold the legs and join your feet facing each other.
Hold feet close to the body and move legs up and down fast.
Repeat it for 10 times.
Breathing should be normal.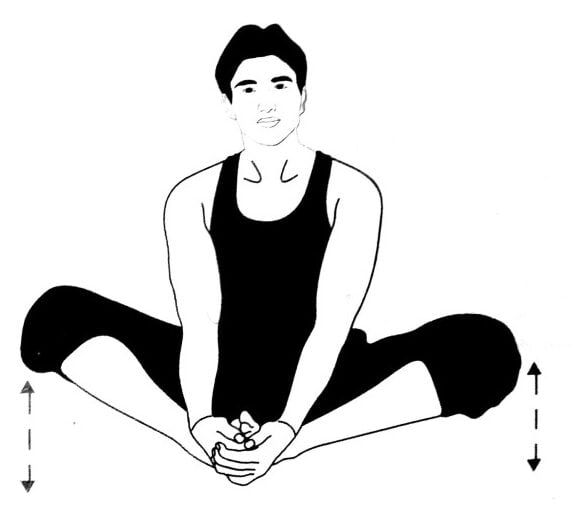 EXERCISE 9:
Extend your arms in front and bend hands up from wrists.
Spread out your fingers.
Clench and flex them for 10 times.
Breath normally.
Bring hands down and relax.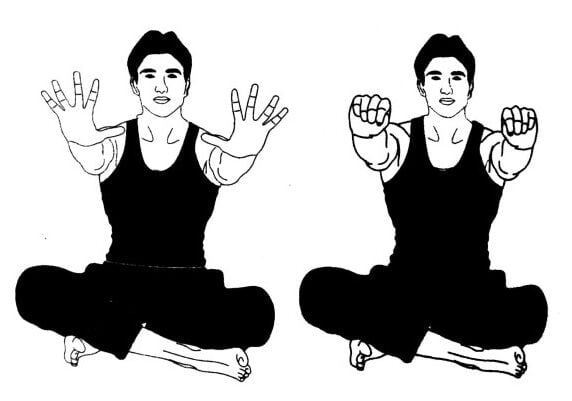 EXERCISE 10:
Extend arms in front ,keep fingers together and palms facing downwards.
Bend hands downward and then straighten them.
Do it for 10 times.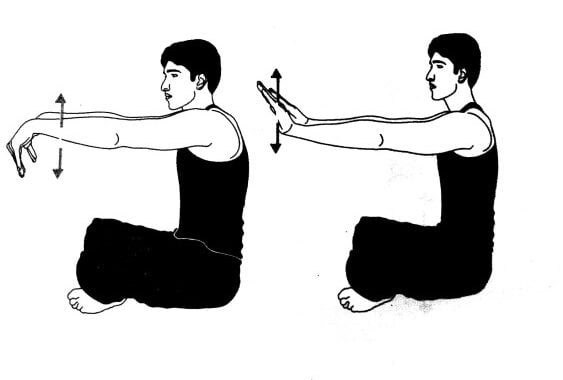 EXERCISE 11:
Extend arms as before and make a fist with thumbs inside.
Inhaling, rotate wrist outward and exhaling, rotate them inward.
Repeat 10 times.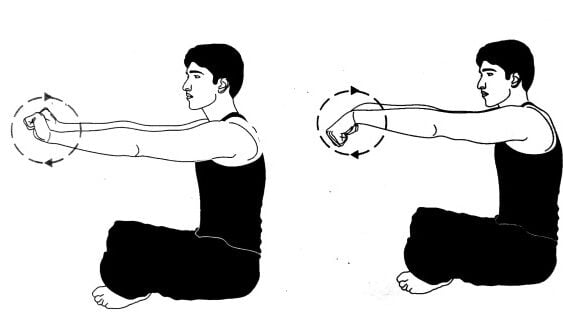 EXERCISE 12:
Extend arms as before but this time, palms facing up.
Take a deep breath.
While exhaling, bend your arms and touch your shoulders.
Straighten them while inhaling.
Repeat for 10 times.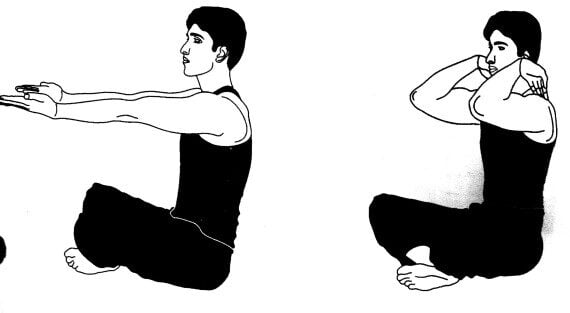 EXERCISE 13:
Touch your shoulders with fingers of respctive hands.
Rotate arms forwards and backwards.
Repeat 10 times in both the direction.
EXERCISE 14:
Now you need to bend your head towards one shoulder and then towards the another.
Repeat for 10 times.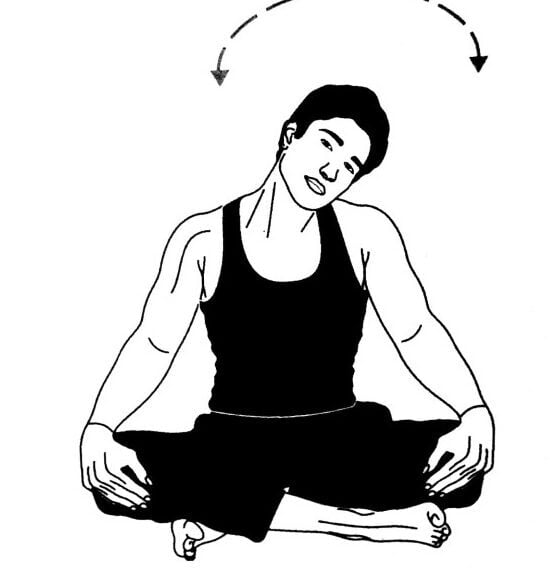 EXERCISE 15:
Bend head forwards and backwards 10 times.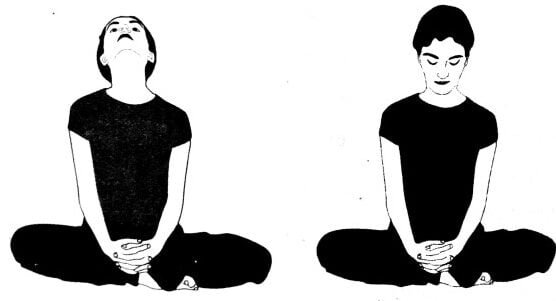 EXERCISE 16:
Rotate head slowly 5 times in one direction and then in another direction.
NOTE: The last 2 exercises should be avoided by people with cervical spondylitis.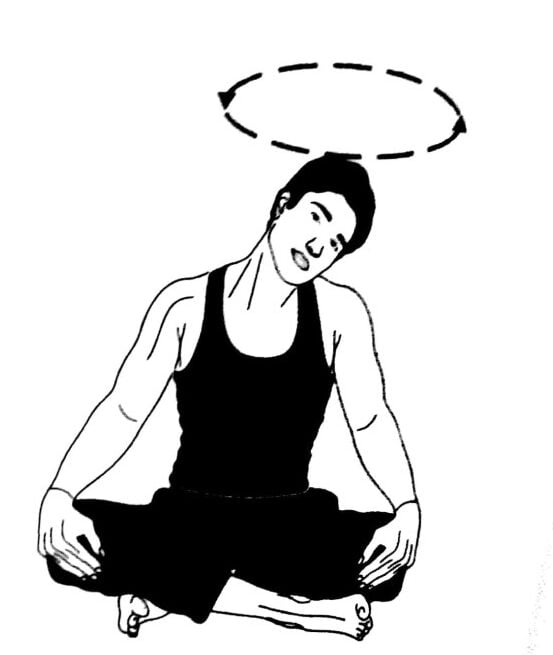 EXERCISE 17:
Lie down in shavasana.
Count 50 breaths.

NADISODHAN PRANAYAMA for high blood pressure
Sit straight.
Keep your left hand on left knee in gyan mudra.
Place your index and middle finger of your right hand on the forehead between the eyebrows.
Now close your right nostril with the thumb.
Take a deep breath from left nostril in the natural speed.
Closing the left nostril with the ring finger and exhale from the right.
In the same manner, inhale from the right and exhale from the left.
Repeat the same for 10 times.
NOTE: Exhalation should take double the time of inhalation. [e.g. if you count 5 during inhalation then you must count 10 during exhalation.]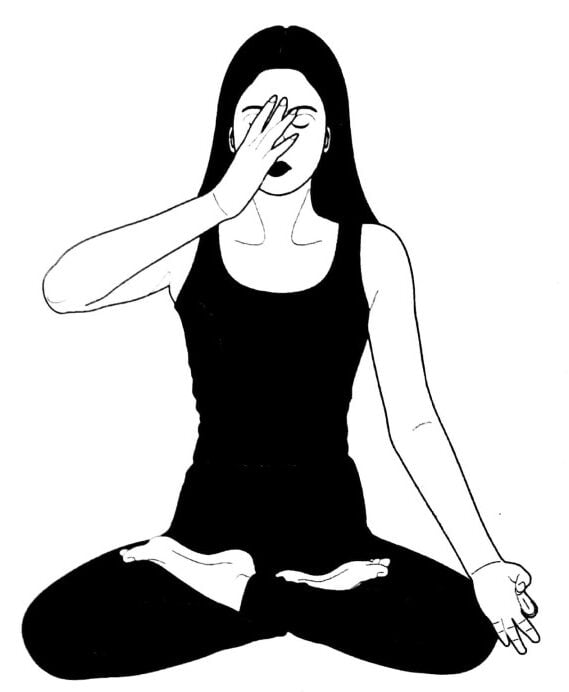 BHRAMARI PRANAyama
Close your mouth and plug your ears with index fingers.
Close your eyes and take a deep breath.
While exhaling, making a humming sound extending the breath till you are comfortable.
Repeat 9 times.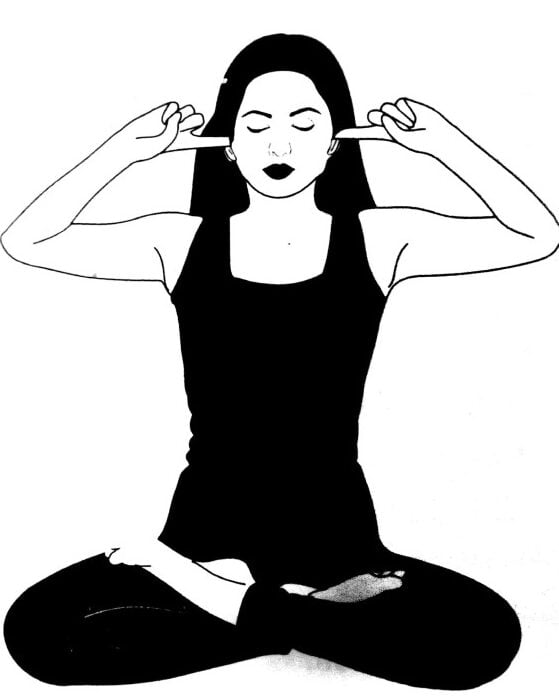 DAY 2
After finishing sukshma vyayama series and before nadisodhan pranayama, practice the following asanas.
ANANDA MADIRASANA
Sit in vajrasana and hold your ankles.
Cross your eyes and look at the point in between your eyebrows.
Breathe slow and deep 20 times .
Close your eyes and relax.
SHASHANKASANA FOR HIGH BLOOD PRESSURE
Sit in vajrasana.
Raise your arms while inhaling.
Exhale and bend forward.
The arms should remain straight and close to the ears.
Try to place your forehead and forearma on the ground.
Breathe normally for 10 times.
Finish with shavasana.
DAY 3
After bhramari pranayama as per previous day, practise sheetkari pranayama.
sheetkari pranayam
For this ,you need to fold your tongue back and join your teeth.
Breathe in slow and deep through the mouth producing a hissing sound.
At the end of inhalation, close mouth and exhale naturally from the nose.
Repeat 9 times.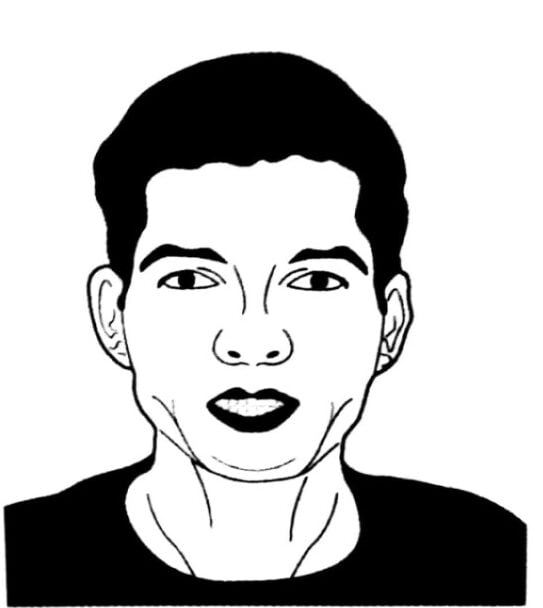 DAY 4
Practice 18 rounds of sheetkari instead of 9.
Add sheetli pranayama after sheetkari pranayama.
SHEETLI PRANAYAMA
Fold your tongue lengthwise to make it like a tube and stick it out.
Breathe in slow and deep from tongue.
Now, draw your tongue back ,close your mouth and exhale from the nose.
Repeat for 9 times.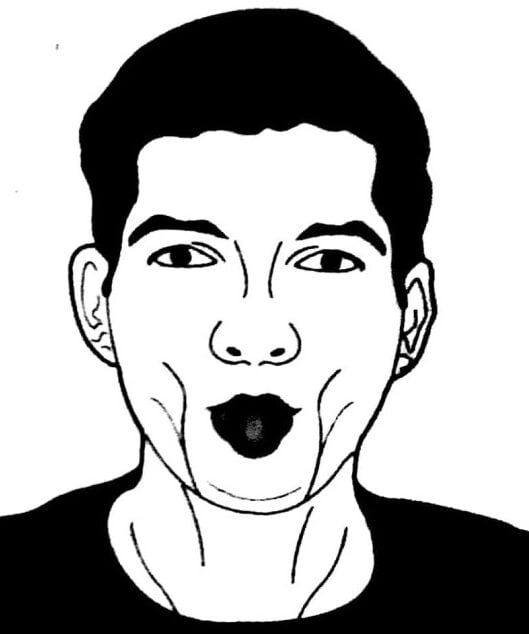 DAY 5
Same as the previous day , but increase sheetkari pranayama by 9 more rounds.
DAY 6
Asanas and pranayama are same as before.
Add ujjayi pranayama.
UJJAYI PRANAYAMA
Contact your throat a little, so that you can feel the breath there.
When done correctly, your breaths will produce a mild hissing sound.
NOTE: From the seventh day onwards, if your BP is still high, practice ujjayi pranayama for as long as possible till your BP becomes normal.
DAY 7
For day 7, you need to practice Bhramari pranayama , Sheetli pranayama and Sheetkari pranayama, 27 times each.
Continue this day's routine for another week to keep your blood pressure in control.
Try this 7-day yoga plan for high blood pressure and give yourself to live a healthy and long life.
Thank you for reading this so far and if you have any queries regarding the above text, you can ask us in the comment section below or you can also mail us at physiociti@gmail.com
Share your views on this below in the comment section and type 'YES' if you gonna try this.
Best of luck!