Cephalgia, also known as 'headache' includes any type of pain that is affecting the head, neck, or face. Headache is one of the most common conditions in the world. In today's lifestyle, its occurrence is increasing rapidly due to increasing stress and other problems. So, if you are suffering from headaches, you're not the only one.
ICD-9-CODES
307.81 Tension headache; 339 Other headache syndromes; 339.0 Cluster headache; 339.1 Tension-type headaches; 339.2 Post-traumatic headaches; 339.3 Drug-induced headaches; 339.4 Complicated headache syndromes; 339.8 Other specified headache syndromes
ICD-10-CODES
G43 Migraine; G44 Cluster headache; G44.209 Tension-type headaches; G44.309 Post-traumatic headaches; G44.41 Drug-induced headache; G44.51 Hemicraniacontinua; G44.80 Other primary headaches; G44.81 Hypnic headache.
Types of cephalgia:
1. Primary headaches/cephalgia
Primary are those headaches that are not very dangerous as they aren't due to any underlying medical cause. These includes:
Migraine
Cluster headaches
Tension headaches
Trigeminal headaches
2. Secondary headaches/cephalgia
These headaches are dangerous as they are related to other medical conditions, like:
Tumor
Whiplash injury
Intracranial headache
Neck injury
Vascular disorders
Overuse of medications
NIH Classification of Cephalgia:
The National Institute of Health (NIH) has 5 classifications of headaches:
Vascular headache

Migraine
Cluster headaches

Muscular tension myogenic headache
Cervicogenic headache
Traction headache
Inflammatory headache
Signs & Symptoms:
MIGRAINE

More common in women
Pulsating pain
Nausea
Sensitivity to light or sound
Pain on one or both sides of the head
Pain aggravates with routine activity

CLUSTER HEADACHES

These are more common in men than in women
Severe headaches
These are short-lasting
Symptoms around the eye

MUSCULAR TENSION/MYOGENIC HEADACHE

Squeezing or tightening on head
Mild-to-moderate pain
Still able to do the routine activity

CERVICOGENIC HEADACHE

Disorder of the cervical spine
Stiff neck
Range of motion or mobility limited
One-sided pain
Pain radiating to the arm

TRACTION HEADACHE

Can be caused by stroke
Severe throbbing or pulsating pain

INFLAMMATORY HEADACHE

Can be caused by sinus infection with inflammation
By increase in intracranial pressure
Dull or aching headache
Feeling of tightness across the forehead, sides of the head, back of the head, and neck.
Possible Causes:
It can be due to forward head posture, rounded shoulders due to tight pectoralis, or weak deep neck flexor muscles.
Prolonged side bending of the cervical towards the impaired nerve
Hypertrophy of the facets
Trauma
Light and sound
Nutritional deficiency
Vascular insufficiency
Stress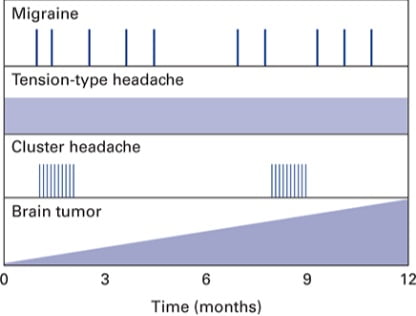 Migraine headache is episodic and may occur at varying intervals. Tension headaches may be present every day. Cluster headache occurs in bouts separated by symptom-free periods. Headache caused by brain tumors often increases in severity with time.
Differential Diagnosis:
DISORDER
MIGRAINE
CLUSTER
HEADACHE
HYPERTENSION HEADACHE
CERVICAL NEURALGIA
EYE DISORDER
SINUS,EAR, & NASAL DISORDER
SEX/AGE
PREDOMINANCE
Female/20-40 years
Male/40-60 years
None
None
None
None
NATURE OF PAIN
Throbbing and intense
Stabbing, pulsating, burning
Dull, throbbing, nonlocalized
Dull pain or pressure in the head
Generalized discomfort in or around the eye
Dull, persistent
FREQUENCY
Usually not more than twice a week
1-4 episodes/day
Variable
Intensify with sustained visual effort
Variable
LOCATION
Usually unilateral
Unilateral eye, temple, forehead
Entire cranium, especially the occipital region
Bilateral occipital, frontal or facial
Entire cranium
Frontal, temporal, ear, nose, occipital
DURATION
Several hours to days
Minutes to hours
Variable
Variable
During and after visual effort
Variable
CAUSE
Vasomotor
Vasomotor
High BP
Neurological, pressure on spinal nerve roots
Infection, allergy, chemical
Blockage, inflammation, infection
OTHER
SYMPTOMS
Nausea, vomiting, pallor, photophobia, mood disturbances
Ipsilateral sweating of the face, lacrimation, nasal congestion, or discharge
Dizziness, auditory disturbances
Diminished vision. sensitivity to light
Diagnosis:
MRI, CT:

These help to visualize the region of the head or brain

X-RAY:

They help to look if osteophytes located in the intravertebral foramen of the cervical spine
Tests & Measures:
Cervical spine active range of motion
Physical examination to rule out cervical radiculopathy:

Diminished brachioradialis reflex
Intervention:
Usually, headaches go away with rest and mild analgesics like ibuprofen, aspirin, or paracetamol. But, not all headaches go away easily and need lifestyle changes.
By rest
Lifestyle changes: Changes in diet and sleep patterns are very effective to cure headaches.
Stress management: Daily meditation and relaxation techniques are also effective to cure stress headaches.
Proper hydration
Cervical distraction and traction in case of nerve compression.
Postural changes
Exercises in case of muscle weakness.

Deep neck flexors training
Strengthening of lower/middle trapezius, rhomboids, rotator cuff, serratus anterior, latissimus dorsi.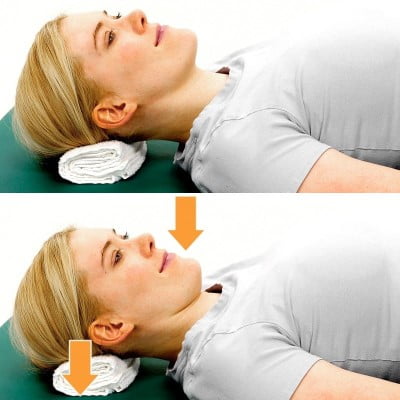 ALL THE BEST!