Are you the one who wants to lose weight and get fitter, but don't want to go to the gym?
IF YES, then this may help you. As today we are going to discuss many other ways of 'HOW TO LOSE WEIGHT WITHOUT GYM'
When anyone thinks of losing weight, then the first way that comes to one's mind is hitting the gym. But that's not the only way available to do that.
Everyone is unique and everyone's body is different. One kind of activity can be best for one but can be worst for others. We should always choose the one which suits us best. Cardio exercises are one of them. They are very beneficial, not only for losing weight but also for many other reasons.
READ MORE: Importance of cardio
Let's discuss all the possible ways out there one by one along with their pros and cons.
Outdoor activities to lose weight other than gym
1) WALKING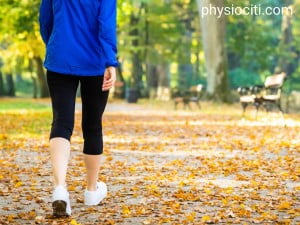 Pros:
Most popular of all activities
No age limit-a lifetime activity
Convenient
Easily incorporated into lifestyle
Little skill involved
NO COST
Fewer injuries than jogging or running
This is a weight-bearing exercise
Uses most major lower-body muscle groups
Cons:
Not active enogh for some
Takes three times longer to get the same aerobic benefit as from running
Injuries can occur, such as shin splints & blisters
2) JOGGING OR RUNNING
Pros;
Convenient
High levels of cardiorespiratory fitness benefits in short time periods
Few skills needed
Impact on hard surface builds stronger bones and offers protection against osteoporosis
Euphoric feeling or runner's high (Euphoria- an unrealistic feeling of emotional and physical well-being)
In bad weather, you can run on an indoor track, if one is available
LOW COST- just need a good pair of running shoes
Because it is often outdoors, you get to view nature and a change of scenery
Cons:
Frequent, chronic injuries from impact to muscles, tendons, ligaments, and bones
Injuries such as shin splints and stress fracture due to-
Improper warm-up
Excessive distances
Impact of feet and legs on ground
Wearing inadequate shoes
Dangerous when done on roads with traffic
Poor outdoor conditions (i.e., snow, pollution) may prohibit
3) BICYCLING: ROAD OR MOUNTAIN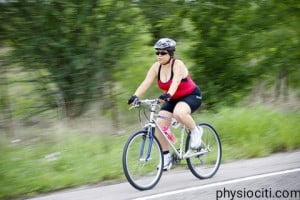 Pros:
No age limit-a lifetime activity
Fewer injuries than running because there is less impact on legs and feet
Because it is done outdoors, you get to view nature and a change of scenery
Cons:
May be difficult to locate a safe place to ride
Injuries inclue painful knees, feet, back, & saddle soreness
Cost of the bike and other gear such as helmet, gloves, water bottle, sunscreen, and glasses
4) IN-LINE SKATING OR ROLLERBLADING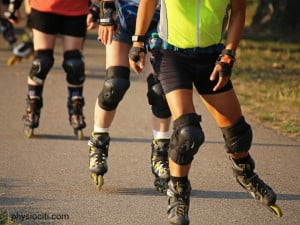 Pros:
Lots of fun-curving, turning, gliding, sprinting, and spinning
Change of scenery
Works thighs, hips, and buttocks muscles
Cons:
There is a learning curve which could make the beginning stages a bit dangerous
May be difficult to locate a safe place to skate
Some people have difficulty stopping
Injuries may result from collisions, falling, and blisters
Requires skill and balance
Coasting loses the aerobic effects
Costs for skates, helmet, wrist guards, knee guards, elbow guards, and gloves
5) SWIMMING

Pros:
Fewer injuries because there is no impact on legs and feet
Works every part of the body, with an emphasis on the upper body
Refreshing
No age limit-lifetime activity
Helpful for those who are overweight and have a problem of chafing.
Good for people who are-
Injured and want to keep exercising
Pregnant
Overweight
Cons:
You must locate a swmming pool and an available lane for swimmimg laps
Requires skill
Repetitive arm motion can result in pain and inflammation, leading to tendinitis and bursitis
Swimmimg laps can be repetitive and seem boring
Not a social activity
Snce this exercise doesn't involve impact, it doesn't help build bone density
Risk of infection in the ears, eyes, and sinuses
6) CROSS-COUNTRY SKIING
Pros:
Involves both upper and lower body, including most major groups when poles are used
Rigorous workout obtained when at higher altitudes, in cold weather, and from added weight of clothing
Scenery changes
Low impact
Cons:
Exposure to cold conditons can lead to frostnip, frostbite, or hypothermia
Requires accessibility to snow
Skiing downhill decreases the aerobic effect
Indoor activities to lose weight other than gym
1) TREADMILL
Pros:
Easily assessible no matter what the weather conditions
Good for beginners, many levels
Easy to use
Easier on jointsthan waling or jogging on asphalt or concrete surfaces
Can watch TV while exercising
Some machines have various personal high-tech programs that monitor heart rate
Cons:
Can get monotonous
Can stumble and side off
Expensive to own; may require health club membership
Can aggravate existing joint problems
Using good form is critical to reducing risk of injuries
2) STATIONARY BICYCLE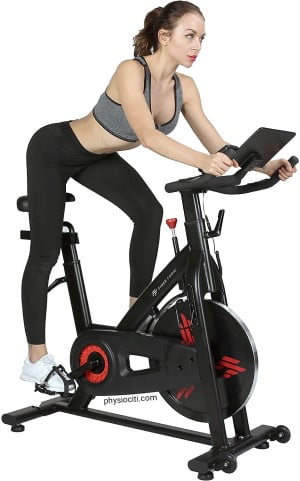 Pros:
Easy to use
Great thigh workout
Gives knees a rest
Upright bikes are good for beginners with back problems
Cons:
Expensive to own
Harder to get heart rate up; need to pay attention to resistance and cadence
Some people find the seat to be uncomfortable for long durations
3) ELLIPTICAL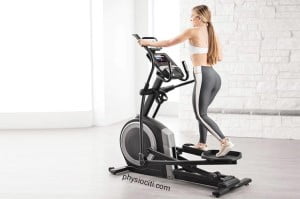 Pros:
Uses the same pattern of movement as when running or walking
Provides less impact on joints
Cons:
Requires some balance and coordination
Need to choose a good intensity to get a good workout
4) STAIR STEPPER
Pros:
Great for low-impact lower-body workout
Takes a lot of energy to sustain body weight stepping up and down
Cons:
Easy to cheat by locking arms and leaning on the machine
May not be comfortable for those with knee pain
5) ROWING MACHINE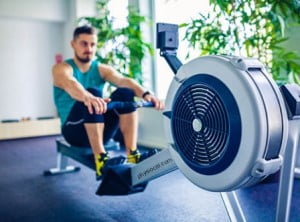 Pros:
Total body workout using major muscle groups
Will prepare you for outdoor rowing or paddling on a canoe or kayak
Can watch TV while exercising
Cons:
Can strain back if not performed correctly
Repetitive motion can become boring
Requires coordination
6) AEROBIC DANCING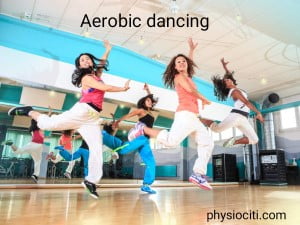 Pros:
Enjoyable
Can be done with a class or individually at home
Low injury rates
Different styles and variations of classes may be classified as below-
HIGH IMPACT- more jumping and faster movement
LOW IMPACT- less jumping and slower movement
AQUATIC- done in the water
STEP AEROBICS USING A 6- TO 12-INCH STEP- increase impact and weight-bearing movement
KICK BOXING- using movements of kick boxing for added variety and strength
CIRCUIT- uses weights and aerobics to work out upper body as well as to increase aerobic endurance
Cons:
Possible injuries could occur, such as shin splints, tendonitis, muscke strain, back strain, and stress fracture
Cost of aerobic class and travel time
Try to include a number of activities in your daily routine to achieve your goal and don't just stick to one activity. Doing different activities alternatively will not only give you more benefits but also you will not get bored.
Conclusion:
The activities mentioned above can help you lose weight without a gym and can increase your overall wellness by boosting your immune system, easing stress, improving your self-image, and reducing the risk of certain diseases.
You can choose any of the above activities according to your convenience and it will be more beneficial if you do a variety of activities on an alternate basis.
Thank you for reading this so far and if you have any queries related to it then let us know at physiociti@gmail.com
SO, WHICH ACTIVITIES YOU ARE GOING TO PICK?